It would be amazing to have enough time to build and experiment with your own abilities to make things that are useful, educational, powerful. I started reading about green energy to power a green home. I keep finding things that make it possible to literally explore leading edge innovative energy production.
How I home-built an electricity producing Wind turbine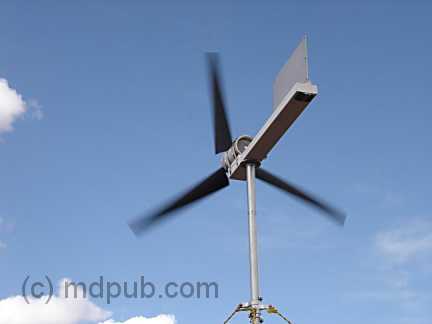 For free if you know where to find basic scrap metal supply. Florescent light casing, clothesline, magnets from an old projection television speakers,.. things like that. Otherwise, about $300 Canadian Dollars. Use the search bar on the right of this page.

Let me state up front that I probably won't be able to help you out much if you decide to build your own wind turbine. This web site has become insanely popular, often taxing the bandwidth limits of the server. I get dozens of requests for help each day. I simply don't have time to answer the majority of them. Most of the questions and requests I get are the same ones over and over again.
I have created a FAQ
to handle these repetitive questions.
Please read it
before emailing me. Simple questions, not covered by the
FAQ
, which only require a quick and simple answer may get replies if time permits. However, there is no way I can help you out with complex issues, teach you electronics theory, help you locate parts, build a charge controller for you, or custom design a system for you. There just aren't enough hours in the day. Sorry.
Since no one seems to be reading the FAQ, I will answer the No. 1 question I get many, many times a day right here up front. Why didn't I just use an automotive alternator on my wind turbine? Automotive alternators need to spin at very high speed to produce useful amounts of power. Most wind turbines don't spin fast enough for them to work.
I started the process of designing my wind turbine by Googling for information on home-built wind turbines. There are a lot of them out there in an amazing variety of designs and complexities. All of them had five things in common though:
A generator

Blades

A mounting that keeps it turned into the wind

A tower to get it up into the wind

Batteries and an electronic control system
Do you have any blueprints, schematics, instructions, parts lists or plans you can send me?
No. All the information I have related to this project is available online. Read it thoroughly and follow the links provided. I realize not everyone will be able to build their own wind turbine with only the information provided. Many people seem to want step by step instructions. I don't feel that step by step instructions are useful with a project built using found materials and improvised structures. Trying to exactly duplicate my wind turbine may be unnecessarily difficult. You may not be able to get exactly the same parts I used. Instead, I recommend you use my ideas as a starting point, then innovate using the materials available to you. If you are still stumped, I can only suggest you seek help locally from handy people you know, and research any aspects of the project you don't understand.